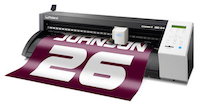 Special features for Roland GS-24
* Communication through USB.
* Polling of vinylsize.
* Perforated cutting perfect for pop-out decals.
* Contourcutting using either 3 or 4 marks.
Contourcut is found under the Special cutting-menu.
USB-driver required for communication
Windows: You can download the communication driver here.
Mac: No USB-driver required. Select Roland USB in the SignCut output list.
Manual
The manual can be found here.